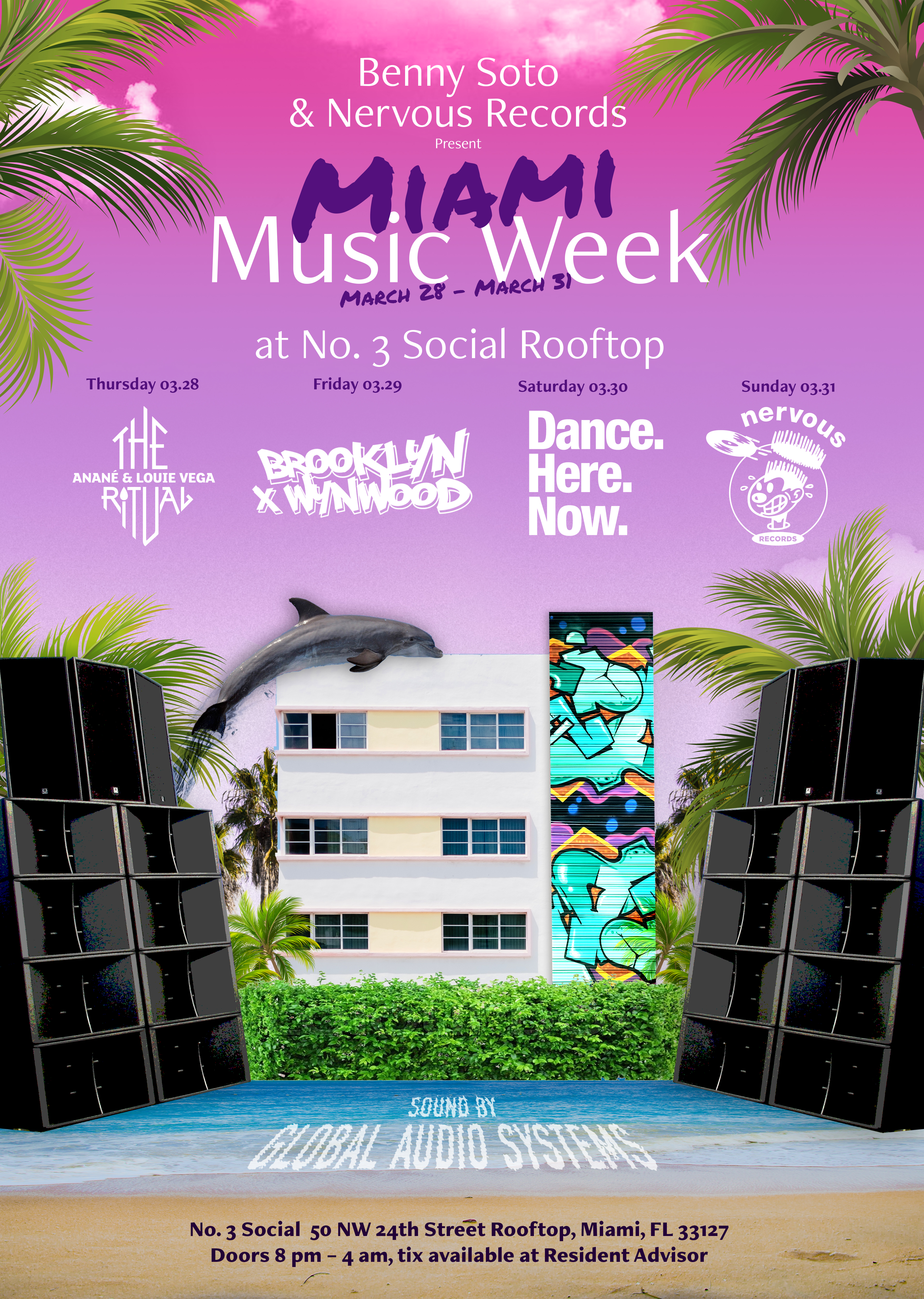 FRIDAY 29
8:00 PM till 4:00 AM
Benny Soto & Nervous Records Present 4 massive club nights at No. 3 Social

Benny Soto and Nervous Records are bringing some of nightlife's biggest brand to Wynwood's only outdoor / rooftop venue – No. 3 Social. Each night will feature several of the top DJ's in the world.

Thursday March 28 – The Ritual with Anané & Louie Vega

Friday March 29 – Brooklyn X Wynwood featuring the best of Brooklyn's emerging talents

Saturday March 30 – Dance.Here.Now. – the world renowned nightlife brand is back and once again featuring A-list dj's from the worlds of House and Techno

Sunday March 31 – Nervous Records – America's longest standing and still active label annually showcases legendary talents on one line-up that is always a Who's Who of future members of the DJ Hall of Fame.

The events will take place at No. 3 Social Rooftop at 50 NW 24th Street in Wynwood from 8 pm – 4 am and will feature the booming sounds of Global Audio Systems.

Benny Soto has been an essential force behind several of New York's most important nightlife institutions including the Dance.Here.Now. and 718 Sessions brands, as well as the legendary venues Output and Cielo. From his days as an assistant for Keith Haring through now when he produces events with many of the world's elite House and Techno DJ's, Benny Soto has evolved into one of the industry's most highly respected and esteemed promoter / event producers.

Nervous Records has been at the forefront of the American independent dance music community since its inception in 1991. Its catalogue includes seminal House and Hip Hop recordings that are annually included in lists of the biggest tracks of all time, and its distinctive cartoon character logo represents for club fans world wide the best in underground music and culture. The label continues to release singles and albums that represent the highest level of artist integrity and talent in the still growing genre of House Music, and in the past few years Nervous has partnered with Benny Soto to also produce many highly successful nightlife events.